The Right Reverend William H. (Chip) Stokes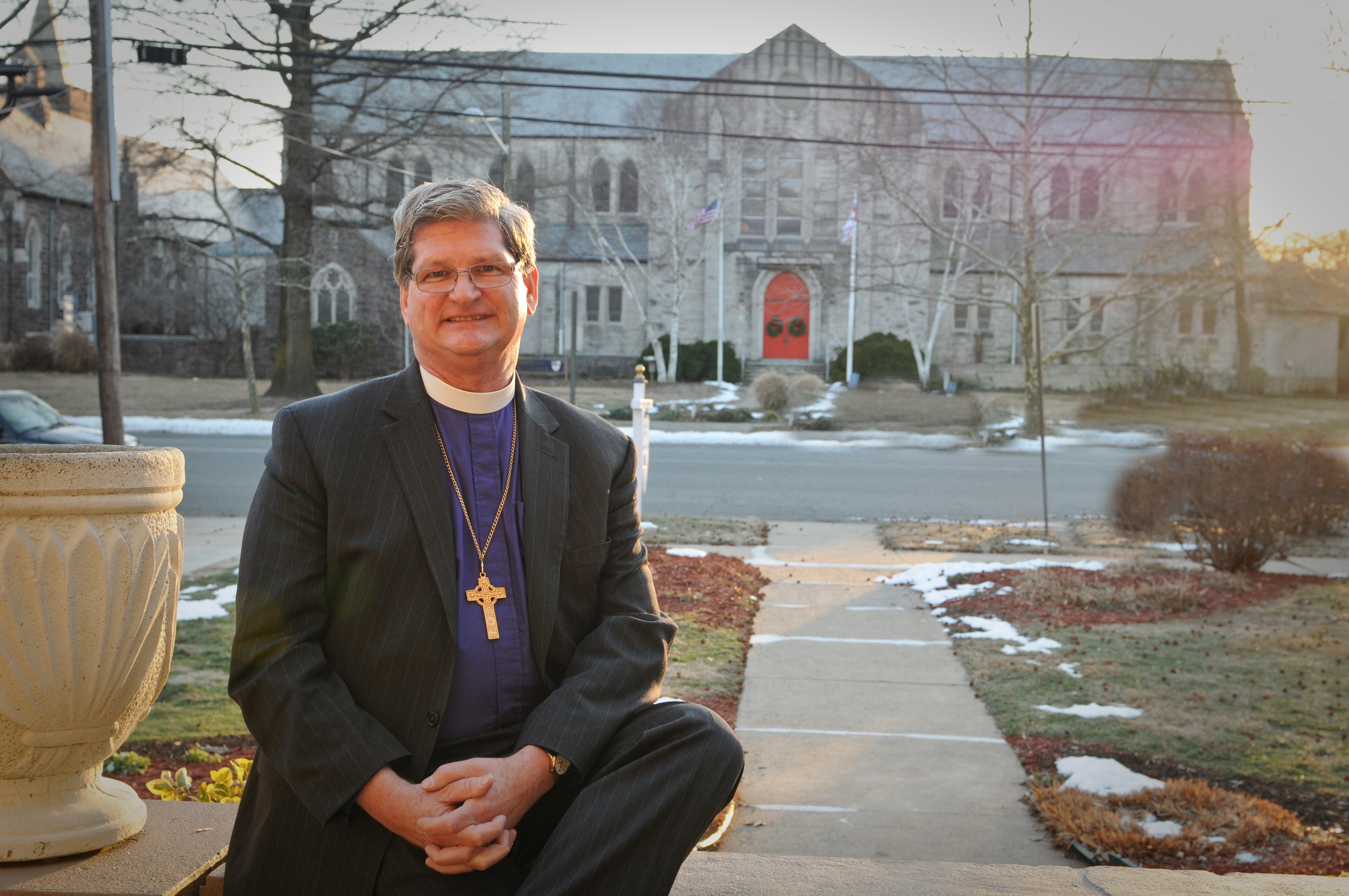 ABOUT THE EPISCOPAL DIOCESE OF NEW JERSEY:
Founded in 1785, the Episcopal Diocese of New Jersey is one of the largest dioceses of the Episcopal Church in the United States, with 144 congregations in the southern two-thirds of the Garden State and approximately 44,500 members. The Right Reverend William H. (Chip) Stokes, was elected Twelfth Bishop of the Diocese in 2013. For more information, please visit www.dioceseofnj.org.
Contact
Episcopal Diocese of New Jersey
808 West State Street
Trenton, NJ 08618
609.394.5281
Dear People of the Diocese of New Jersey,
 .
Purify our conscience, Almighty God, by your daily visitation, that your Son Jesus Christ, at his coming, may find in us a mansion prepared for himself; who lives and reigns with you, in the unity of the Holy Spirit, one God, now and for ever. Amen.
                                                    Collect for the 4th Sunday of Advent
This year, the Fourth Sunday of Advent falls on December 24th. This calendar clash occurs every few years posing particular challenges to clergy and altar guild members.
 .
Most churches will observe the ending of Advent on Sunday morning and greet with joy the birth of Christ on Sunday evening or night. Some churches will already be decorated for Christmas on Sunday morning. Others will wait until the morning service is over and then work quickly to prepare the church for Christmas proper. Sunday morning, those who attend church will hear the Collect for the Fourth Sunday of Advent in which it is prayed that God might "find in us a mansion prepared for himself." On Sunday night we will hear of the birth of the Christ child in a stable.
 .
The juxtaposition of stables and mansions is striking to me. The former conveys an image of messiness, even filth; the latter luxury, wealth and sparkling cleanliness While I strive during Advent to clean my spiritual house in preparation for Christ's coming, hoping to make myself "a mansion" fit for him, sometimes the business of life seems to take over and my spiritual house is a mess, a figurative stable. My guess is that I'm not alone. Those of us who find this to be true, however, can take comfort. Christ, by grace and love, will come and dwell among us anyway. That's the Christmas gospel delivered to the shepherds. Remember the angelic words:
 .
"I am bringing you news of great joy for all the people: to you is born this day in the City of David a Savior, who is the Messiah, the Lord…." Luke 2:10 -11
 .
These words are not merely addressed to the shepherds at the time of Jesus; they are addressed to all of us always whether we walk in darkness or in light; whether our spiritual houses are pristine mansions or filth-filled stables.
 .
 Susan joins me in wishing you and yours a blessed and joyous Christmas.
 .
            Faithfully yours in Christ,
The Rt. Rev. William H. Stokes, D.D.
XII Bishop of New Jersey


---
FROM THE BISHOP:
Dear People of the Diocese of New Jersey,
If there was ever a time of year for parents and grandparents to take the lead in the spiritual development of their children and grandchildren, Advent is it. All around us, the culture has erupted with garland and tinsel and ubiquitous Santas ho, ho, ho-ing on city streets, department stores and shopping malls. I will confess that I love all of this.
When I was a young boy, my mother worked in Bloomingdales in New York City. I would often meet my mother at work, hanging around the store until her work day was done. I had the run of the place. I'd go to Santa's workshop, get an ice cream clown in the restaurant, hang around the toy section just taking it all in and seeing what I would ask for from Santa. Popular Christmas music was playing in the background.
Even then, however, I knew that all of this had little to do with Jesus or with Advent. Advent is a rich liturgical season filled with profound meaning and an ethos of holy anticipation. I sang in the choir at St. Thomas Church, Fifth Avenue in those days. We sang the hymns of Advent, lit the candles of the Advent wreath, prepared for the coming anew of Jesus into our world and into our lives.
There are wonderful rituals and traditions that families can engage in observing a holy Advent.
Have an Advent wreath with candles in your home. Each Sunday, as part of grace before dinner, light a candle and say the prayer for that Sunday in Advent from the Book of Common Prayer. These can be found online if you don't have a Prayer Book at home (although the Book of Common Prayer is a great spiritual resource for the home!).
During your Advent candle lighting, read portions of Luke's Gospel, chapters one and two, telling the story of John the Baptist's birth, of the Annunciation and of Christ's birth.
Make a Jesse Tree. Jesus' roots are in the family of King David. David's father was Jesse. A Jesse tree is made up of symbols that represent the genealogy of Jesus from Jesse's line. Again, this is a resource that can be found on-line.
Use an Advent calendar to mark the days leading up to Christmas.
Build a crèche. Have a family crèche and add figures each week leading up to Christmas. Start by adding animals, then the shepherds. Lastly add the Holy Family and Jesus on Christmas Eve. Place the Wise Men some distance from the crèche and beginning with Christmas, move them closer to the crèche. Put them in the crèche on the feast of Epiphany (January 6).
During Advent, the voice of prophets ring out, reminding us of God's judgment and calling us to repent. It's an appropriate time to have caring conversations as a family about injustice and about our vocation as Christians to respond to the world's suffering and need.
Advent clashes with the consumerism of our secular society. As people of faith, we serve our children and grandchildren well when we make them aware of this clash and lead them to deeper truths.
May you and yours have a blessed and Christ-filled Advent.
Grace and peace,
Blessings and peace,
The Rt. Rev. William H. Stokes, D.D.
XII Bishop of New Jersey
INTERFAITH PRAYER VIGIL IN RESPONSE TO CHARLOTTESVILLE EVENTS TO BE HELD ON STEPS OF STATE HOUSE SEPTEMBER 5
(TRENTON): An interfaith prayer vigil will be held on September 5, 2017 at noon on the steps of the New Jersey State House, located at 125 W. State Street in Trenton. The vigil is organized by the Anti-Racism Commission of the Episcopal Diocese of New Jersey and will be led by faith leaders from throughout New Jersey. All are welcome to attend.
"No one should be surprised by what happened in Charlottesville. In our current political climate, so-called white supremacy, white nationalism, neo-Nazism and the overt racism of the Ku Klux Klan have been empowered and emboldened to spew hatred publicly and without shame," said the Right Reverend William H. Stokes, Bishop of New Jersey, in a pastoral letter on August 14.  "It needs to be stated without equivocation that these ideologies cannot be reconciled with the teachings of Jesus or the Christian faith. Those who claim Christian identity while holding these types of views can only be viewed as heretics and in error."
The interfaith prayer vigil will include Christian community members and clergy from Trenton and the surrounding towns. Muslim and Jewish clergy and faculty have also been invited to speak and pray.
"Racism is the great sin of our age," said Deacons Ted Foley and Ted Moore, chairs of the Anti-Racism Commission, in a joint statement. "We seek to bring our community together in prayerful reflection against bigotry, and to stand as one in love. The hate and aggression that saturate our nation cannot be allowed to continue."
The vigil will last approximately 90 minutes. On-street parking is available; additional parking is available at several nearby garages.
###
Dear People of the Diocese of New Jersey,
Even as we pray for those impacted by natural disasters -Hurricanes Harvey and Irma, the wildfires in California, and the earthquake in Mexico, and respond to their need – on this 16th Anniversary, let us also remember those who were killed on September 11, 2001 as well as their loved ones who still grieve among them, members of our diocesan community. Please observe a moment of silence to pray for and honor the victims and their families. Pray for the first responders who were courageous that day as well as those called to respond to different catastrophes today. Pray for those who were injured physically and emotionally on 9/11. Pray for an end to violence in all its forms and for the peace of the world.
May God heal us all.
Yours in Christ,
The Right Reverend William H. Stokes, D.D.
Bishop of New Jersey
A Prayer prepared by The Most Reverend Frank T. Griswold, Presiding Bishop and Primate, The Episcopal Church, USA, for September 11 anniversary observances.
God the compassionate one, whose loving care extends to all the world, we remember this day your children of many nations and many faiths whose lives were cut short by the fierce flames of anger and hatred. Console those who continue to suffer and grieve, and give them comfort and hope as they look to the future. Out of what we have endured, give us the grace to examine our relationships with those who perceive us as the enemy, and show our leaders the way to use our power to serve the good of all for the healing of the nations. This we ask through Jesus Christ our Lord who, in reconciling love, was lifted up from the earth that he might draw all things to himself. Amen.
808 West State Street, Trenton, New Jersey – 609.394.5281

The Feast of Jonathan Myrick Daniels – August 14, 2017
(A Spanish translation of this letter is available here)
Dear People of the Diocese of New Jersey,
Do not be overcome by evil, but overcome evil with good….Romans 12:21
This past weekend great evil was manifested in Charlottesville, Virginia, as white American nationalist terrorists openly marched and fomented violence, hatred, and murder. Unregulated militia in uniform, carrying long-rifles, used the power of threat in an attempt to intimidate those who oppose them. Imitating other terrorists in other countries, Nazi-sympathizer and White Nationalist, 20-year old James Alex Fields, Jr. allegedly used his car to mow down 19 people, in addition to killing Heather Heyer who was there as a peaceful demonstrator showing her opposition to the injustice and hatred Fields and his companions spouted.
No one should be surprised by what happened in Charlottesville. In our current political climate, so-called white supremacy, white nationalism, neo-Nazism and the overt racism of the KKK have been empowered and emboldened to spew hatred publicly and without shame. Sadly, some counter-protesters allowed themselves to be baited and responded to the violence with violence. There is no moral equivalence, however. White nationalists and white supremacists holding hateful, racist positions armed themselves and came to Charlottesville to instigate violence and hatred. They succeeded.
I was thankful for the clergy who were present in Charlottesville, including my colleagues in the Diocese of Virginia, The Right Reverend Shannon Johnston, The Right Reverend Susan Goff, and Right Reverend Ted Gulick. They went to Charlottesville to pray, to evidence that authentic Christianity has no place for the kind of hatred peddled by white supremacists and white nationalists. They were resolute, calm and overtly non-violent.
It needs to be stated without equivocation that racism, the tenets of white supremacy, white nationalism, Nazism and similar ideologies cannot be reconciled with the teachings of Jesus or the Christian faith. Those who claim Christian identity while holding these types of views can only be viewed as heretics and in error. As Episcopalians, we are sworn to oppose these. Our baptismal promises allow no room for compromise:
Will you persevere in resisting evil and whenever you sin, repent and return to the Lord?
Will you seek and serve Christ in all persons loving your neighbor as yourself?
Will strive for justice and peace among all people and respect the dignity of every human being?
(BCP pp. 304-305)
All are welcome in the Episcopal Church; hatred and bigotry are not. Being clear with those who hold hateful, bigoted views, or who act in hateful and bigoted ways, that these views and actions are not acceptable and cannot be harmonized with authentic Christian faith and living is an act of love. A wise priest once said to me, "Sometimes 'no' is the language of love."
Sadly, racism and bigotry still infect not only our nation, but also our Church and our diocese. With society, we all still have much work to do. I will be consulting with our Anti-Racism Commission and Team to consider how we might deepen our work and be more effective in the days and weeks ahead.
Today, August 14 on the Church calendar, we remember Jonathan Myrick Daniels, who as a seminarian went to Selma, Alabama in 1965 to confront racism and oppression and who became a martyr protecting a teenage African-American girl when he was killed by a shotgun blast at the hand of a white  supremacist.
On Saturday, Heather Heyer joined Jonathan Myrick Daniels, Medgar Evers, Martin Luther King, Jr., and a long list of martyrs – of many races and creeds – who died striving to oppose racial injustice and hatred in this country. The last post on Heather Heyer's Facebook page stated, "If you're not outraged, you're not paying attention."
Needless to say, she was right.
I direct all congregations to pray the following prayer in unison either at the Offertory or after the postcommunion prayer beginning August 20th and for the next four Sundays:
For the Human Family – (BCP p. 815)
O God, you made us in your own image and redeemed us through Jesus your Son: Look with compassion on the whole human family; take away the arrogance and hatred which infect our hearts; break down the walls that separate us; unite us in bonds of love; and work through our struggle and confusion to accomplish your purposes on earth; that, in your good time, all nations and races may serve you in harmony around your heavenly throne; through Jesus Christ our Lord. Amen.
Blessings and peace.
Faithfully yours in Christ,
ABOUT THE ANTI-RACISM COMMISSION OF THE DIOCESE OF NEW JERSEY:
The Anti-Racism Commission is a Bishop-authorized body of 12 persons with special knowledge, experience, and skills pertaining to organizing against racism. Founded in 1996, the Anti-Racism Commission partners with national organizations to provide anti-racism training retreats, organizes full-day biennial conferences, provides counsel and resources to parishes, and responds to racial justice issues in the community. Find out more at http://dioceseofnj.org/antiracism/.